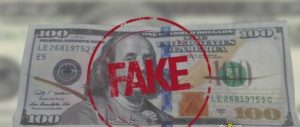 The Cedar Rapids Police Department has been investigating several incidents of counterfeit bills being received as part of Craigslist transactions.  The Police Department would like to remind citizens to take a moment to look at currency upon presentation to help combat this crime and reduce loss significantly.  The Police Department would also like to remind citizens of some safety tips about making Craigslist transactions.
When accepting any bills, look for red and blue fibers embedded throughout the bill. Also, look for watermarks that can be seen when the bill is held up to the light that indicates that the currency is real.  The currency will be spelled out in the watermark. Sometimes the feel of the counterfeit money is different as well.
To lessen the likelihood of becoming a victim of this financial crime, the Police Department recommends the following tips, especially when using Craigslist:
1)            If a deal sounds too good to be true, then it probably is.  Trust your instincts.
2)            Insist on meeting at a public place and never go alone.  Don't meet in secluded area. 
                Do not invite strangers into your home, and do not go inside other people's homes.
3)            Generally, the higher the price of the time that is being purchased, the greater risk involving the transaction.
4)            Be cautious when buying or selling high value items.  As a general rule, do not accept cash for items priced
                over $100.
5)            For higher priced items, conduct the transferring person and at a financial institution. 
                A banking professional can verify if and when funds have been successfully transferred to one's account.
6)            Perform the transaction during daylight hours. 
7)            Tell a friend or family member about your intentions and take your cellular phone with you.
8)            Selling or buying through an online website is a business transaction. Therefore, stick to the facts of the
               business transaction and leave out any personal information.
9)            Avoid sharing any personal information such as Social Security numbers, bank routing numbers, credit card
                numbers, and computer username or passwords.
10)          Avoid transactions involving wiring of funds, especially out of the country, via phone or online.
For more information about how to detect counterfeit money, please see the United States Currency website at https://uscurrency.gov.