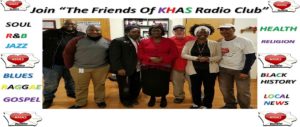 KHAS Radio has started "The Friends of KHAS Radio" club to impact our community and accelerate the KHAS outreach.
Our meetings are held on every 2nd Monday of the month at Beautiful Braids and More which is located at 1141 16th Ave SW, Cedar Rapids, IA..
KHAS wants to personally thank Dave and Marie Fraley for providing "Friends of KHAS"concept, and for allowing the use of their business as a meeting location, with lots of great food and hospitality.
We welcome your participation, feedback, and input as KHAS is in it's early stages of development.
It could be your idea or your participation that is the missing component to the outreach of KHAS radio.
Some of the new ideas that are currently being investigated are:
A.) Weekly Live Guest Show
B.) Youth Involement Show
C.) Financial Planning
D.) Legal Awareness Show
E.) Remote Broadcast of High School Games
F.) Quiet Storm Show
G.) Sunday Call-In Prayer Line
H.) Entrepeneur Business Grant opportunities
I.) Education News
J.) New Community Entertainment Opportunities
K.) KHAS Remote Community Broadcast
L.) Health News
If you are interested in joining "The Friends of KHAS Club"please meet us on the 2nd Monday of each month.
Time: 5:30 to 630 pm:
Location: "Beautiful Braids and More" salon
                 1141 16th Ave.
                 SW, Cedar Rapids, IA.
Thank you and have a blessed day!! See you there!
 Next Meeting: April 24th