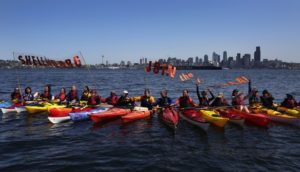 The Cedar Rapids Parks & Recreation Department in cooperation with Linn County Conservation is offering kayakers, ages ten and up, a chance to practice their skills such as strokes, rolls and safety and rescue moves in the controlled environment at Bender Pool, 940 14th Avenue SE. Drop-in pool sessions for kayakers are being offered each month from
4:30-6:30 p.m.

on

December 18

, January 15 and 29,

February 12 and 26

, and

March 12

. The sessions are practices, not lessons, but experienced paddlers will be available to help. The fee is $10 per person per visit. No advance registration is required.
Participants bring their own kayaks and equipment and wear proper swim attire and clean life jackets. A helmet is required for those practicing rolls. The kayaks must be rinsed, inside and out, with the hose just inside the door before they can be placed in the pool. Youth must be supervised by an adult.