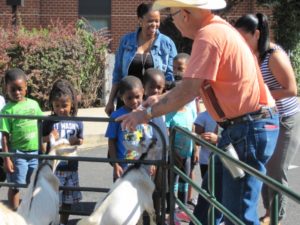 The Cedar Rapids Parks & Recreation Department will open Old MacDonald's Farm in Bever Park for the season on Monday, April 24. The farm, now a petting zoo, will be open daily, 10:00 a.m.-6:30 p.m. through October 13. Admission is free, but a $1 minimum donation is recommended.
Old MacDonald's Farm is home to farm animals and North American waterfowl. The baby animals began arriving April 17 and include calves, chickens, miniature goats, lambs, rabbits, a tortoise, a guinea pig, and pigs. They will be out only during warm weather.
"With the animals arriving and the farm opening next week, I can't help but be excited for another great farm season to get under way," said Megan Lopata, Old MacDonald's Farm Coordinator. "The public support we received last season was amazing and I hope that everyone in the community is as excited as I am for another great farm year and watching those babies grow all summer long!"
Old MacDonald's Farm visitors will enjoy five "free" events this year beginning Sunday, May 21 with Old MacDonald's Farm Summer Kick-Off Party. In addition, farm tours, birthday parties and the following programs are available: Farm Prints; Animals on the Farm; Farmer for a Day; Creek Study and You; Fuzzy, Furry, Slimy, Scaly; What's Your Habitat.
For more information about programs and events at the farm, see the Play! guide at www.crrec.org or call the Cedar Rapids Parks & Recreation Department, 319-286-5566.